Do you live in South Florida? If you do, chances are you've been through a hurricane and have lost power. If you didn't have a generator it means you were without power for about a week. All the food in your fridge spoiled, no hot water, no tv. If you were lucky enough to find a generator for sale before the storm, you had basic necessities, but why stick to a basic necessity. With a residential generator system from MTS Power Products, you can have more than necessity.  South Florida Generators, Miami Generators, Fort Lauderdale Generators – MTS Power Products provides all of South Florida with residential and commercial generators.  From Gensets to standby Generators for emergency backup power plans we can help you with generator questions.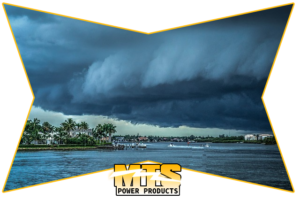 Our Generator Systems, are top of the line, along with all of your Generator replacement parts. Imagine having the peace of mind knowing that if a storm hits, you have the power and energy. Electricity is in everything we use; Phones, computer, stove, kitchen appliances, and here in Florida air conditioning and water heaters. While others have none of these luxuries during a storm, our Residential Generator Systems, can give you the emergency power you require.  If you own a business, a Commercial System can keep your business open no matter what the conditions are like. Beat your competitors by simply being open when they can't be, because they didn't invest in a Commercial Generator from MTS Power Products.  South Florida Generators
MTS Power Products has been in the Generator business for over 30 years, and has seen competitors come and go.  MTS Power Products has maintained its well respected position in South Florida community, engineering our own products in-house, with the best and brightest engineers, in South Florida Generators. From Generators to Voltage regulators. MTS Power Products supplies, has everything you'll need to have security and peace of mind, that no matter the storm, you'll be safe.
South Florida Generators