MTS Power products is a respected generator supplier for both industrial and commercial needs. MTS has been in service for over three decades throughout the greater South FL region. An automatic voltage regulator for generators serves to maintain a constant power value emission at every point during its use. Chances are if you've invested in a power generator it is to have a source of electricity if the power is to go out; it is a safeguard for when the situation arises. A generator is a fantastic measure of protection to have for your home or business, but a factor that many people unintentionally overlook is the protection of the generator itself; a voltage regulator can help tremendously with this problem.
An automatic voltage regulator for generators is an unexpendable part of maintaining proper generator function capabilities as well as overall product lifespan.Our team of skilled experts can install an automatic voltage regulator for generators for your already reliable Genset system to help increase its efficiency as well as resiliency. We offer extensive customization options to meet any the standards of your stipulations. Our staffed electrical and mechanical engineering branches can provide and install generator upgrades such as:
Generator ATS & Engine Controls

Generator Automatic Transfer Switches

Generator Auxiliary Excitation Booster

Generator Battery Chargers

Generator Governors
Optimal operation conditions of an automatic voltage regulator for generators is at an electrical power output of 150 watts to a voltage-current of 3 amperes or less. An automatic voltage regulator for generators works to monitor and modify electrical voltage output for efficiency and power optimization. AVR can halt the overheating of key elements within your generator by stopping voltage from getting too high. This is a common problem for parts like the Generator's batteries, if not addressed it will hinder your system's performance and begin to decrease its full lifespan. Having MTS Power Products expertly install an automatic voltage regulator into your system will remedy this common problem and help save you from the exorbitant costs of having to replace your power generator system in its entirety.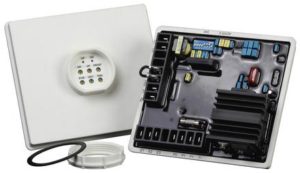 If your Genset endures constantly fluctuating voltage inputs because of factors such as changes in power load requirements or having to run for extended periods of time then an automatic voltage regulator for generators is one of the best investments you can integrate into your system. The installation of a reliable AVR ascertains that your system is safeguarded, bringing you peace of mind that it will break down when needed most, and will have the greatest possible longevity when it comes to how long the system will be able to operate. Sudden spike and drops in voltages will cause harm not only to your generator but also the appliances it is powering. If your generator can damage your valuable equipment as it's powering it then it begins to lose its attractiveness. Let MTS protect your generator, sensitive electronics, and save you from avoidable replacement expenses down the road. Contact us today to schedule services and have your needs and questions addressed.
Facebook | Twitter | Google+ | YouTube
Automatic Voltage Regulator for Generators